10 Lucrative Business Opportunities at Dubai Expo!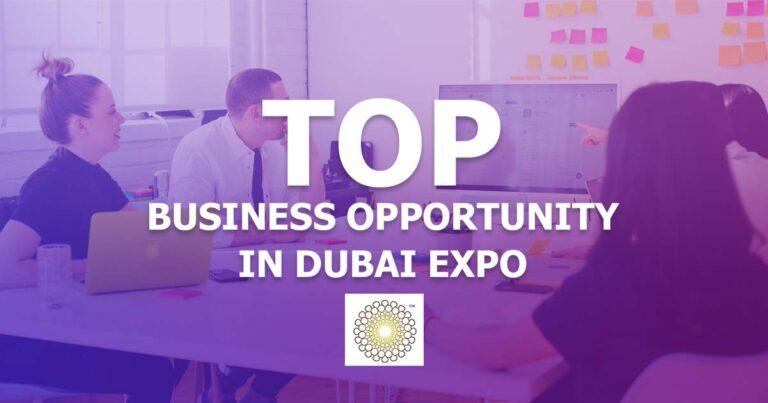 Published - 11/09/2021
Are you awaiting the world-famous and business-generating Dubai expo? It's a mega gathering of the most significant business ventures and entrepreneurs from all across the world. The latest buzz about Dubai expo 2021 is at a surge, and business enthusiasts are eagerly waiting to dig some outstanding opportunities. The Expo would go on for around six months, and invitees from all top nations are to participate here. With a phenomenal presence of 190 countries, it's an estimation that multiple business partnerships are about to set up and bloom at this stage!
More than one hundred and ninety countries participate, which is expected to give birth to multiple business partnerships cross-countries. The commencement of the Expo has opened up various opportunities for different business industries to be set up.
Dubai expo 2021 can impart a lifetime opportunity to investors with a vision of setting up their business in Dubai and UAE. This country is growing massively in business options and is all set to create the biggest ever congregation in Dubai. The Expo will create new business avenues and bring about a paradigm shift in the economic sector. Investors are ready to inspire and motivate innovative entrepreneurs with financing for a new dimension in the business world.
All You Must Know About the Dubai Expo!
What if you get central exposure for the promotion and development of your business? Seed funding stands as the biggest glitch for the start-ups, but many investors are waiting for some brainstorming plan to invest their money. Enormous opportunities and options are waiting for innovators, investors, start-ups, and even tourists.
Scroll through the wonderful opportunities standing at the Dubai Expo 2021. There is an investor-friendly environment at this ground of the United Arab Emirates where hundreds of people are coming forth to promote their business minds. Attractive 'Tax Regime' and the 'Duty-Free' zone here provoke the business minds to move forward. Setting a company in Dubai is now an easy process as even the government is getting liberated with their rules.
Dubai government authorities are taking all necessary steps for systematically processing the documents. Although the Covid-19 disaster shook the world economy and Dubai also remained affected with similar type of fluctuations. The economy is again picking up the pace with extended medical support, and the business investors are ready with open arms to get potential help.
Why is Dubai Becoming the Business Hub?
Before identifying further prospects with the Dubai expo 2021, it is also imperative to understand the feasibility of commencing business operations here. Dubai has multiple business sectors and zones for carrying out operations such as below:
Dubai Mainland
Dubai Off Shore
Dubai Free Zone
However, every investor needs to get a specific license for the operation of several business activities. There are multiple areas where you can test your fortune at the Dubai expo, and it's time to know more about them.
Top 10 Business Opportunities at the Dubai Expo 2021
There are multiple business opportunities that you can explore at the Dubai expo 2021. Here are some promising options that you can try:
Tourism- Tour and travel is the most significant sector having high dominance in the UAE market. As per a new analysis, there might be almost 25 million new visitors taking part in the tourism industry at this Expo. Dubai quickly offers a tourism license, and the norms of the Dubai Tourism Authority offer good relaxation. There are various reasons provoking investors to take part in the tourism business of Dubai.
Hospitality- Next option to try at the Dubai expo include hospitality services. UAE is inviting the hospitality business as a feasible choice due to its very high market demand. As a part of its preparation, there are rigorous efforts to add 27,000 more hotel rooms by 2018, and the count might reach up to 91,000 by the end of 2019. New accommodation for 25 million visitors is the vision, and the GCC hospitality market is set to witness the change.
Food and Beverage Industry- Business investors can also find the food and beverage industry prospects at the Dubai expo 2021. Foodservice is emerging as an excellent opportunity for investors willing to develop a food business in Dubai. UAE welcomes everyone, whether it's a food truck, small or large restaurant. There is exponential growth in the food sector, and it could feature a massive amount of prospects for businessmen. You can sneak out on further insights into this at the Dubai expo. Around 42% of the brands have a plan to stretch their business expansion here.
Cleaning- Another industry with a huge demand at the Expo in Emirates is cleaning and hygiene. A survey suggests that the hygiene sector witnessed a shoot up from AED 80 to 300 billion, which sums up to the shift of almost 275%. This demand would further grow at the exhibition centers, commercial projects, and complexes.
Entertainment- Dubai would also bolster the entertainment sector by leaps and bounds. The global gathering at the Dubai expo has a mission towards the growth of the entertainment industry as well. Only the Dubai Theme Park would probably generate a revenue of $5 billion at the end of 2021. Whether it's leisure or entertainment, Dubai is waiting with open arms to welcome investors from all parts of the world for giving a kick-start to their businesses.
SMEs- Small and Medium Entrepreneurs can grab several commercial activities at the upcoming Expo in 2021. Around 90% of the SMEs would witness drastic growth at the end of 2021. This can count to almost 40% of the country's economy. Such SMEs could develop nearly 3,00,000 direct business jobs and around 1 million indirect ones. Numerous businesses are focusing on relationship development with customers and clients. They can seek a competitive edge and even create strategies for the enhancement of the brand value.
Engineering- Next business option to explore at the Dubai expo are the engineering creations. Several small segments cover it, such as computing, energy, construction, aviation, defense, healthcare, construction, telecommunication, oil, and gas.
Real Estate- Business entities can also find new horizons in the real estate market. Several business entities are eager to shape and design numerous residential and commercial complexes. This, in turn, could help in the better establishment of the real estate market. There is an excellent opportunity for investors to develop better and higher real estate businesses.
Construction- Multiple partnerships are blooming up with diverse portfolios to try their skill in the construction industry. The scope of this sector is surging up with a higher number of projects lined up after each other. This sector would contribute almost AED 25.7 Billion along with the construction license. You can get the licensing from the Department of Economic Development (DED) Dubai that helps in carrying out activities legally.
Consultancy services- Many new consultants from the marketing and finance background are getting higher company growth and profits. Freelancers are also getting options to come up with consultancy firms and provide adequate services to their clients.
How to Get a Consultancy License in Dubai
Choosing your business is the first step for every entrepreneur to get a consultancy license in Dubai. Connect us to get the answer to your question "How to Get a Consultancy License in Dubai".
Final Thoughts
The overall response to the Dubai Expo 2021 is incredible, and it is serving as a massive platform for various business organizations. They can now set up a new businesses in Dubai and develop brands as per their preferences. It's a perfect place for starting a big business but needs adequate documentation for the process completion. With this guide, you can understand the scope of various businesses accessible in the UAE and the possible probabilities you can explore. Proper research and study on your concept with correct promotion could surely help take your business to new heights!