WHAT IS DOCUMENT CLEARING SERVICE DURING BUSINESS SETUP IN DUBAI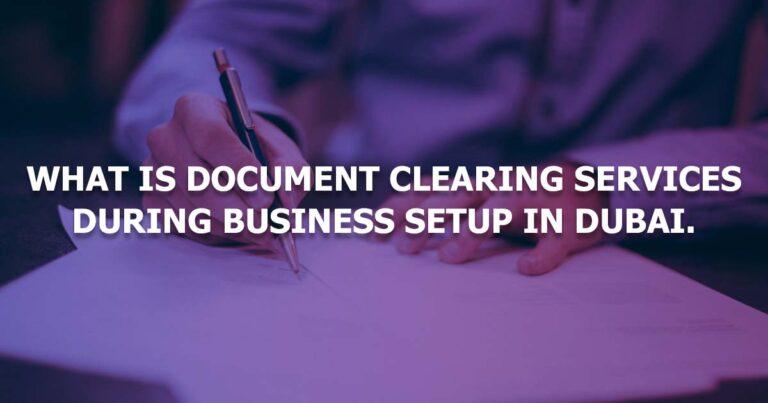 Published - 08/12/2021
Thanks to Dubai's ever-progressing market and stable economy, many business owners dream of setting up a branch there. For some entrepreneurs, Dubai is their very first destination itself.
However, if you do not stop and consider your options, your promising venture could land you up in failure as well. For instance, with the number of businesses that are coming up and growing in the area, there is an equally large number of rules and regulations that have been set in place for better evaluation of businesses and their credibility.
These legal and bureaucratic hurdles are what bring about the failure of many business ventures which is why it necessitates the application of Document Clearing services in Dubai.
In this article, we have discussed all the important information that comes under Document Clearing Service at length for your understanding.
What is Document Clearing Service?
In order to incorporate or register a business in Dubai or the UAE, there are several services, certifications, permissions, and authorizations that are necessary to obtain. The process of acquiring these necessary authorizations is what is known as Document Clearance.
It can be a very challenging and complex task as the documents required can vary from company to company depending upon the type of company that is being launched, the nationalities of the employees, the partners in associations, and multiple other variables that can affect the ultimate documentation that will be required.
The process of document clearance is also vulnerable to the changing business laws and currency of the region.
Why is Document Clearance Service Important?
While setting up your business in the region, it is understandable that a Document Clearance Service may not be necessary to you. But that does not rule out the fact that a Document Clearing Service can help you through your registration process and reduce your workload.
The primary goal of a Document Clearance Service is to help register the company with the Dubai Emirate. Moreover, the services offered may vary depending upon the company that employs them. This is why Document Clearing Services pose a great advantage for the business owners that know them and employ their services.
Another thing to note would be that the duration for registration will also vary depending upon the type of company that you're trying to register with. This means that for some companies, the procedures involved in obtaining the necessary permissions and authorizations in Dubai can be a lot more hectic.
In such circumstances, having some professional guidance around would certainly help when you're setting up your business which is also why it is so important.
The need to use Document Clearing Services
For foreigners that are looking to set up their business and invest in Dubai, the process of document clearance can be hard and confusing. There are several legal hurdles that you will have to encounter when trying to set up your business. But these difficulties and problems are not exclusive to foreigners, even residents have trouble trying to get their businesses set up and registered.
This is why there are some significant risks that entrepreneurs will have to face without the assistance of a document clearance service. Such as:-
Changing laws and fluctuating business regulations
Multiple laws have been established in the Dubai Emirate to safeguard business start-ups and to also ensure their credibility. As a consequence, it is your duty as a business owner to know all about these laws and regulations that tend to fluctuate and change from time to time as well.
Without the assistance of a Document clearance service, you might have a hard time being familiar with all the necessary rules and laws. And if you miss out on certain regulations, you might have to face some serious repercussions.
Change in Currency, Economic structure for foreign entrepreneurs and Investors
The United Arab Emirates are well-known for their distinguished economy and specific economic policies as well. It is a multi-currency empire and businesses are required to adapt to the status quo and follow the economic structure that has been set up.
For this reason alone, businesses and companies must be equipped with all the necessary documents such as trade licenses, bank statements, etc. An ideal Document clearance recognizes this need and is prompt with offering you all the necessary services and guiding you through the process of acquiring these documents.
Subjective requirements
Setting up a business in Dubai or any other foreign place for that matter is not just confined to the local coverage area. But there are several other activities and procedures that you need to take care of.
For instance you will need to:-
travel on business matters
make national as well as international transactions
have all the necessary documentation ready, and more.
For such tasks, document clearance services can help you acquire the necessary documentation and authorization that is required.
Apart from all the above-mentioned necessities, a document clearance service can also help you in processing and acquiring live:-
Visa registration
And ID registrations.
Conclusion
A successful business in Dubai is a dream come true for many aspiring and budding entrepreneurs. But failing to do your end of necessary research about the laws and regulations concerning the area, can spell out some major downfall for your business.
This is why Document Clearance Services are important to help entrepreneurs and businesses attain the necessary documentation and get their business set up and registered under the Dubai Emirate.
Frequently asked questions
How do I get the important local documents notarized in the UAE?
Both public and private notary services are available in Dubai, Abu Dhabi, and other Emirates in the country. Appointments can be directly made through the online notary services or by requesting a personal visit in your home or office space for specific reasons.
What is the process of legal document attestation in the UAE?
The process of document attestation has 4 main steps:-
Notarization to be done in the origin country.
Attestation to be done by the Ministry of Foreign Affairs in the origin country.
Certification by the UAE embassy or consultant in your origin country.
Certification from the UAE Ministry of Foreign Affairs.
Summary
Review Date
Author Rating