Starting A Forex Trading Firm In Dubai: Everything You Need To Know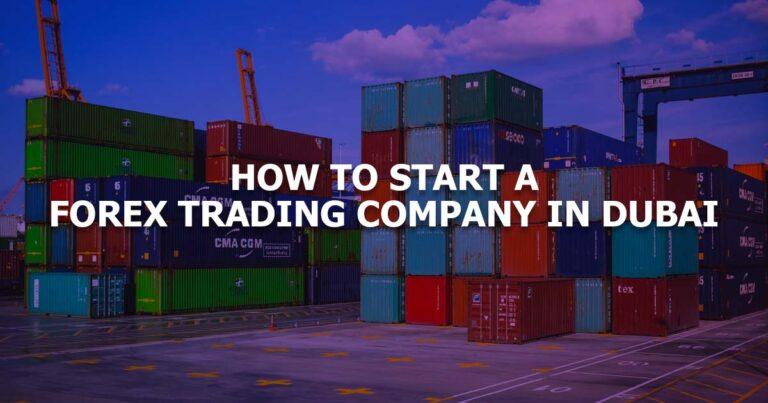 Published - 23/11/2021
Foreign exchange, or Forex, is the world's biggest market in terms of daily trade volume. Due to the internet, individual traders now have easy access to the foreign currency market via international banks or brokers.
The GCC Forex market has astounded the globe in recent years, growing from modest beginnings to a trillion-dollar sector. Forex traders in Hong Kong deal in the same industries as those in London, New York, and Tokyo, but the aggregate volume of trading is growing at a far faster rate.
And the UAE stands out among the region's economies thanks to its comparatively sophisticated banking system and ongoing efforts to create a business-friendly climate. This article discusses the many methods by which you may form a Forex Trading firm in the United Arab Emirates.
Is There A Way To Open A Forex Trading Company In The Dubai, United Arab Emirates?
If you're beginning from scratch, you'll need a substantial amount of money to get your forex trading firm up and running. There is a lot of work involved as well. Businesses in the United Arab Emirates (UAE) are required to be registered with the UAE Department of Economic Development (DED) or the Dubai Multi Commodities Center (DMCC). Then there's the matter of negotiating with the UAE Central Bank and creating a visually appealing website. The main advantage of running your own business is that you have complete control over it and the bulk of the income.
To launch a forex company in Dubai, these are the most significant measures. They're worth a look!
Determine Who Your Customers Are
To start with, decide where you want to go. Any of the United Arab Emirates' emirates might be involved. Knowing where your customers originate from can assist you to choose the ideal jurisdiction for registering and incorporating your brokerage. The license requirements for this kind of company might vary substantially from emirate to emirate. If you're already acquainted with the location, starting a forex brokerage might be a lot simpler. A company set up specialist is a must, of course. They may assist you in comparing the legal requirements of several jurisdictions before making a final selection.
Set Up A Forex Brokerage Business Strategy
Even if you don't need a comprehensive business plan, starting a new financial firm will be a difficult and time-consuming process. This is particularly true if you don't have the support of company setup experts in the UAE. In addition to consulting with an expert, establish a business strategy for your forex brokerage. Business plans that include the target market, buyer personas descriptions, capital and costs for projects, and competition benchmarking and market research are good.
Start With A Bit Of Amount Of Money
Dhs 50,000 (USD$ 13,625) is the current minimum share capital requirement for registering with DMCC. Every jurisdiction has its own set of capital requirements. Find out how much money you need to start a company in Dubai/UAE by consulting with professionals in the field. Establishing a forex brokerage firm in Dubai or any of the other emirates is significant, regardless of the regulations. In order to keep your firm running for the first six months to a year, you will need a substantial amount of money.
Also check out our article on how to get freelance visa in Dubai along with other requirements in detail here!
Choose The Right Companions
First and foremost, forex trading enterprises want trustworthy payment processors. With a reliable payment processing system, your company can't compete in the market. Negotiating with at least two systems is recommended. As a result, you have a backup plan in case your primary payment processor fails. For both you and your prospective consumers, having a variety of ways to withdraw and deposit money is essential.
Obtaining a business line of credit from a bank will be necessary if you want to provide leverage (and who does not?). The UAE Central Bank's clearance and verification processes are challenging to understand. Plan ahead, get aid from experts and make sure you have the money and time to complete the project.
Set Up A Website For Your Forex Trading Company In Dubai
This involves designing a quick website, deciding which trading platforms to use, and integrating extra services. High-quality websites might take time to build. This is a must-have if you're setting up a forex trading company in Dubai or elsewhere in the United Arab Emirates.
Organize Your Work Area
Financial, marketing, sales, customer service, compliance, and IT staff are all essential for FX trading brokerages. There are jobs that may be performed and managed by the managing partners in the early stages, when there is a minimal volume of trade. If an individual has the credentials, they may assume many responsibilities at the same time. However, it is most probable that you will want a large quantity of space for the real official site. There are a variety of Flexi-desk solutions available in the UAE's financial hubs if you're going to work from home.
Your company's legal obligations may be met with Flexi-desk choices when applying for trade licenses with the proper authorities.
You can collaborate and our Sharks will help you with the Forex trading license in Dubai. At Sharkup we have experienced advisors who not only help you with the insights & information but also help you with the end-to-end process of paperwork, documentation & etc.
Summary
Review Date
Author Rating