Complete guide on how to get Freelancer Visa in Dubai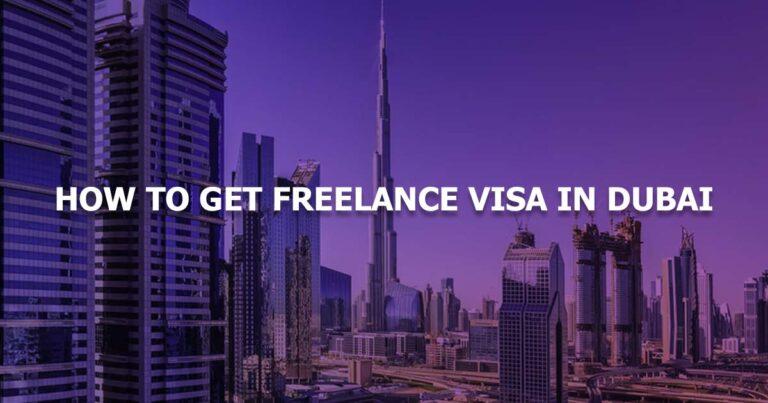 Published - 22/11/2021
We are currently seeing a little revolution in the way businesses and people in the UAE look at freelancing as an alternative to conventional employment. The UAE government has made freelancing legal and issued permits allowing individuals to work as freelancers on the side.
An increasing number of self-employed persons in the UAE and elsewhere in the Middle East is a result of the expanding scope and opportunity. Freelancers are becoming an appealing alternative for both short and long-term contracts as organizations realize the advantages of a more accessible, flexible, competent supply of talent.
START YOUR FREELANCE CAREER IN UAE TODAY!
What Are The Freelance Permit And Freelance Visa in Dubai?
The freelancing permit in Dubai is a license that permits you to operate as an independent consultant and is valid for one year. The freelancer permit is excellent for people on a spouse or parent's visa who just need a license to work as a freelancer.
Those who are not sponsored by their parents or spouse may apply for a freelancing visa in Dubai, which is a three-year residence permit that permits the person to live and work in the emirate.
Who Should Apply In Dubai For A Freelance Permit And/or Visa?
In Dubai, you may gain freelancer eligibility in the following fields:
Media, Technology & Education
You may apply for a freelance visa in Dubai if you are interested in acting, screenwriting, journalism, advertising, training, education adviser, customer service, or web development.
Please keep in mind that your freelancing permission will be issued by Dubai Internet City if you work in the technology industry, Dubai Media City if you work in the media sector, and Dubai Knowledge Park if you work in the education sector.
How To Apply In Dubai For A Freelance Permit And Visa
Applying for Freelance permission and a freelancing visa in Dubai is now an easy procedure that only takes a few steps. To get a freelance visa in Dubai, you must first apply for freelance permission or license in order to be registered as a freelancer in the emirate.
Apply For The Permit Online
Go to the official website by the Abu Dhabi Department of Economic Development
Documents Required For A Freelance Permit In Dubai
Documents required to apply for a freelancing permit in Dubai include:
Resume/CV
The photograph was taken recently
Copies of passports and visas (valid for at least 8 months)
NOC from your UAE sponsor in the form of a bank reference letter
Note: Please keep in mind that if you are applying to the education sector, you must provide documentation of academic credentials that have been verified by either the Ministry of Foreign Affairs of the UAE Consulate in your place of origin. When applying for a permit in the education or technology sectors, you may only choose one activity.
The Sponsor/ Employer's No Objection Letter
You will require a No-Objection Certificate from your spouse or parents before applying for the permit if you are on their visa. Similarly, if you work full-time in Dubai and your employer sponsors your visa, you would need a NOC from your employer. Remember that you do not need the NOC to renew your Dubai freelance work permit.
2. Check In On The Application
After submitting your online application, you will be contacted through email when it has been accepted, which might take up to 10-15 days. Following that, you must go to the business center at Dubai Knowledge Park, Dubai Media City, or Dubai Internet City to physically sign the forms and pay the expenses. Following that, you will be sent your freelancing permission in Dubai.
Complete The Residence Visa Processing
You will obtain an entrance permit within 5 to 7 working days after submitting your application for a freelancing visa in Dubai.
3. Cost Of Freelance Visa In Dubai
The freelancing permission, establishment card, and freelance visa all have different fees.
AED 7,500 for a one-year freelancing permit
AED 2,000 for a one-year establishment card
If you are looking for a three-year freelance job visa in Dubai, you must:
AED 4,960 (Regular) AED 6,340 (Express)
If you are seeking a three-year freelance job visa in Dubai from outside the UAE:
AED 3,330 (Regular) AED 3,900 (Express)
Please keep in mind that the aforementioned fee for the freelance job visa includes fees for your medical exam, visa stamping, and Emirates ID. Also check out different types of visa in UAE in detail here!
Benefits Of A Dubai Freelance Visa
Having freelancing permission and visa in Dubai has several advantages. For starters, it permits you to work for numerous firms. If you want to work in any of the aforementioned fields but don't want a 9-to-5 job, being a freelancer in Dubai may be the ideal option.
A freelancing visa in Dubai is also quite affordable, allowing you to provide your skills at significantly reduced pricing.
A freelance visa and permission in Dubai also permit you to work for firms throughout the UAE and use the free zone's business center.
It allows you to sponsor family members who want to join you in a Dubai apartment or villa for rent. Remember that your freelancing permit and visa cannot sponsor workers.
Conclusion
If you have any more queries concerning the freelancing permission and visa in Dubai, you may contact the appropriate free zones at the following numbers:
+971-4-391-4555 Dubai Media City
+971-4-391-1111 Dubai Internet City
+971-4-390-1111 Dubai Knowledge Park
As more young employees come to the UAE in search of a better quality of life, the freelancer option is becoming one of the favored ones, and freelance visa Dubai may provide you an opportunity to live your Dreams since they would want to have more flexible work hours while doing what you love.
If you are looking to get your freelance visa and work permit and start working as a freelancer from Dubai feel free to reach out to our Sharks.
FAQs
Is freelancing allowed in UAE?
Yes, you can do freelancing in UAE . To operate as a freelancer in Dubai, you'll need a resident visa and work permission, which may be obtained via a free zone, such as Dubai Media City, Dubai Studio City, Dubai Production City, Dubai Knowledge Park, Dubai Design District, twofour54 in Abu Dhabi, or Fujairah Creative City.
Does a freelancer need a work permit?
To work as a freelancer in UAE, you need to have a Freelancer visa. Freelancers may now lawfully reside and work in the UAE under the new legislation. Applicants are not obliged to lease office space and may apply for resident permits on their own behalf and on behalf of their families. If you are a UAE resident on your spouse's or parent's visa, all you need to begin working is a freelancer's permission.
Is a residence visa required to work as a freelancer?
All licensed freelancers who are not GCC nationals must be sponsored by the Media Zone Authority – Abu Dhabi for a work and residence visa, regardless of whether they have been sponsored elsewhere in the United Arab Emirates.
How much does a freelancing visa in Dubai cost?
The permit costs between AED 7,500 and AED 20,000 (depending on the free zone restrictions and your company's needs), and it must be renewed yearly. The cost will also vary depending on whether you want a one-year or three-year resident visa or just permission to operate lawfully as a freelancer in the UAE.
Summary
Review Date
Author Rating