100% ownership in Dubai mainland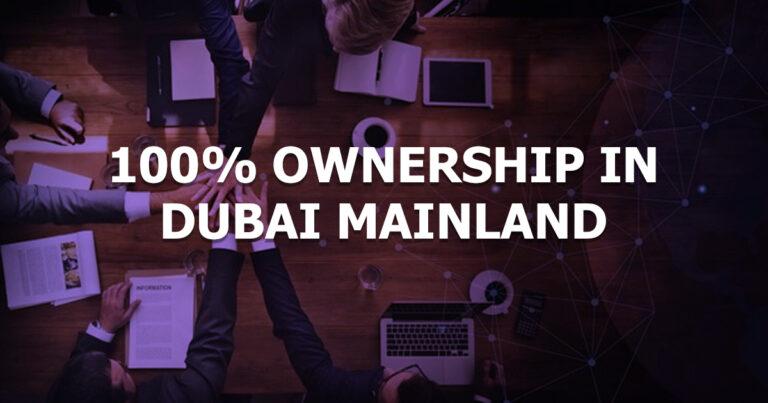 Published - 12/01/2022
The updated legislation will apply to 1,061 of the 2,300 total economic activities on the Department of Economic Development's list in Dubai (DED). As a result, almost half of all commercial operations, including trade and manufacturing, are eligible for 100% ownership in Mainland of Dubai. However, 100% ownership of a firm continues to benefit entrepreneurs in professional services activities. However, they require a local service agent and closely adhere to the sole establishment legal form instead of an LLC.
100% ownership Dubai Activities in the mainland
The types of professional activity that allowed 100% foreign ownership were quite limited in the past. However, 100 percent ownership of the Dubai mainland is now on the table. The following are only a few of the activities on the list:
Pharmacy
Jewelry
Perfumes
Cosmetics
Spices, fruits, and vegetables.
Mini Markets and supermarkets
Trading in general
It's critical to double-check that your activity is available. Working with a business formation expert can assist you in being fully compliant.
Why were laws changed to allow for 100% ownership in Dubai Mainland Company?
Following are the reasons why the laws were changed for 100% ownership in Dubai:
Create a favorable legal environment for the development of businesses.
Facilitating 100% company ownership in the UAE will improve the economy's preparedness.
Increase the ease with which you may do business.
Enhance investment and commercial possibilities to help prepare for the future.
Increase the corporate environment's competitiveness in response to rapid economic changes and global economic trends.
Please respond to the demands of the UAE business community as they change.
Give the country a big boost in terms of attracting ex-pat investors, enterprises, and even startups.
New information on 100% foreign ownership is now available:
Over 1000 commercial and industrial licenses have been approved with 100% foreign ownership.
There are no additional fees associated with seeking adjustments to current trade licenses.
No new cash is necessary to make these adjustments to current trade permits.
In the UAE, full foreign ownership of 'professional licenses' is not permitted.
In addition to having 100 percent foreign ownership in mainland UAE companies, foreign companies' branches in the UAE are now exempt from appointing a 'National Service Agent' (NSA).
The company categories of 'general commerce,' 'gold,' 'pearls,' 'jewelry,' 'cars,' luxury watches,' food,' and others are now permitted to have 100 percent foreign ownership in the UAE.
The industry sectors of "construction," "building materials," "water production," "paint," "food," "flooring," and "flooring metal" are among the industrial categories for which 100% foreign ownership is currently permitted in the UAE. With the new modifications, the company's trade license might be affected by either a drop in the Emirati partner's share capital or a complete withdrawal of the Emirati partner. You can convert a limited liability corporation to single-person ownership with a limited liability structure and 100% foreign ownership.
The UAE has been at the forefront of developing innovative measures to attract the best talent and entrepreneurs to the region. The latest in a string of programs targeted at liberalizing business in the UAE, where foreigners account for more than 80% of the population, is the introduction of a new visa system. Dubai also recently announced the 'Virtual Company Licensed,' which lets international businesses use a regulated e-commerce platform filled by Dubai-based businesses while digitally exploring new markets and investment prospects. The latest decision aims to accelerate the UAE's economic growth and build on the country's previous achievements. These strategic initiatives increase the UAE's investment attractiveness and progress on the global business map while also enhancing the UAE's competitive advantages as an excellent investment location.
Steps to get a license in Dubai Mainland with 100% ownership
The procedure of applying for a license with 100% ownership in Dubai mainland is the next question to address. The following are the first two questions to answer:
Decide on your business activity: The activity you choose must correspond to the business activity you'll be doing. To prevent penalties or even revocation of your license, it's recommended to hire a business formation professional to make sure everything is clear and compliant.
Choose a business name: The UAE is extremely rigorous when it comes to company names. Therefore it's necessary to be informed of the rules.
Any phrase that may be seen as disrespectful or blasphemous must be avoided. Any name that is already in use by a well-known organization must be avoided. Make sure you don't shorten your name if you're calling your company after yourself. So D Clark Trading is okay, but David Clark Trading is not. Of course, you'll want to double-check that the company name you want to register is still accessible.
From there, you can take the following steps:
Prepare your paperwork and make your payment.
Make a name reservation for your company.
Obtain approval
Start your visa application.
Obtain a visa
In all circumstances, engaging with a company formation specialist ensures that you are guided through the particular criteria, ensuring that you set up swiftly and remain completely compliant.
Documents needed to launch a Dubai-based online education company (h3). Whether you apply on your own or through a company formation agency, you will often just need to give a few facts and some essential paperwork, such as:
The application form is to be filled out completely.
A copy of the potential business owner's passport and two-color passport-size pictures
During the procedure, you may need other papers. It's critical to collaborate closely with a business formation agent who can guarantee that you have exactly what you need at each stage to keep your application going forward.
Also check out our article on how to start a Forex Trading Firm In Dubai, check detailed steps here!
Cost of a commercial license in Dubai Mainland with 100% ownership
In Dubai Mainland, calculating the cost of a business license with 100% ownership is complicated. Much will be determined by the size of your organization, the specific commercial activities you want to engage in, and so on.
Summary
Review Date
Author Rating