How to Start a Tourism Company in Dubai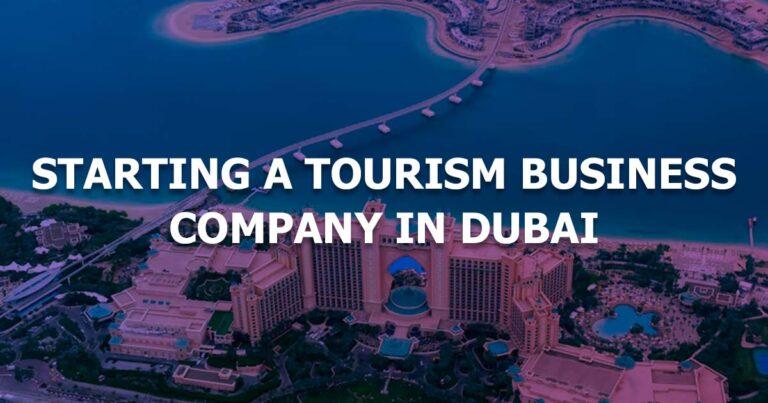 Published - 31/12/2021
Due to its popularity as one of the world's most famous tourist attractions, Dubai received 12 million foreign visitors in 2019. The Dubai International Airport, in reality, ranks third among the world's busiest airports in terms of passenger traffic.
The government of the United Arab Emirates is making concerted efforts to establish Dubai as a leading tourism destination. Because of this, the peaceful Gulf port has been turned into a metropolis with internationally known tourist sites, iconic skyscrapers, namely the Burj Khalifa, and other attractions. As the town is one of the most popular tourist attractions, it is an excellent location to establish a travel agency.
Are you thinking about making a career change and entering the travel and tourism industry? Follow the instructions below to learn how to start a tourism company in Dubai and make a 200% profit.
Note that, in order to establish a travel firm in Dubai, substantial financial resources must be committed upfront to the venture. In addition, there is a summary of requirements that must be met as part of the process. We hope that by the end of this article, you will have a better understanding of the money you will need to start a travel business and what standards you will have to complete in order to be able to advance with the registration process.
What All You Need to Do to Start a Tourism Company in Dubai?
There are a few stages you must complete before you can submit an application for a business license in the UAE, just as there are with any other kind of company venture in the country.
Identify your business activity — for example, a travel agency, a tour operator, or a travel and tourism consulting firm. This activity must be compatible with one of the hundreds of activities authorized in the United Arab Emirates. It is a good idea to consult with a business formation firm at this point in order to verify that your license covers you for your chosen business activity. They may recommend licenses that are most appropriate for your company's needs.
The next step is to pick a name for the firm. In the United Arab Emirates, this requires a bit more consideration than in other areas of the globe. Why? Because the United Arab Emirates has a set of name regulations that are both rigid and simple to follow. Once again, an expert in business creation can assist you in making certain that you comply with the rules.
Briefly stated, you should refrain from using any insulting or profane words. Avoid using well-known business names, and if you are calling your firm after yourself, avoid using abbreviations. You must also ensure that the name you want to use is accessible for registration.
Applying for Tourism License in Dubai
Want to learn how to start a tourism business in Dubai? The first step is to submit an application for a business license.
Applying to a UAE-free zone, such as Fujairah Creative City, is the simplest method to do this. You may apply to the free zone or engage the services of a business formation professional who will handle the full application procedure on your behalf.
There are several compelling reasons to locate your business in this specific free zone. Businesses establishing operations in Fujairah Creative City benefit from customs tax exemption, no foreign currency limitations, no need for paid-up share capital, no yearly audit, and a simple incorporation procedure. Additionally, you are not required to be present physically in the UAE to create your new business.
Additionally, you must apply for a tourist license with the Department of Tourism and Commerce Marketing (DTCM). There are three categories of trade licenses available: outward tour operator, inbound tour operator, and travel agency.
These license classifications are self-explanatory. The outgoing license enables you to organize excursions outside the nation. The incoming license enables you to organize excursions for tourists visiting. The travel agency trade license enables you to offer tours, airline tickets, and visitor visas.
Whichever license you want, the procedure is the same. Simply send an application form to the DTCM together with a photocopy of your passport, an explanation of your business strategy, and a certificate of no criminal record.
In addition to your licenses, you'll need a visa to operate in the UAE. The majority of free zone products include visa eligibility. Additionally, you may sponsor your dependents for their visas. This procedure is the same whether you are sponsoring domestic workers, a kid, or a spouse.
If you work in a free zone, your account manager may assist you in this process by coordinating your visa and license applications.
If you're seeking a Dubai firm license, a Dubai free zone visa, or the lowest UAE free zone license or visa, our experts can assist you.
Cost of Tourism license in Dubai
The price of a travel company license is mostly determined by a variety of criteria, including the size of the firm, the number of owners, and the nature of the business.
However, as a general rule, the cost of a travel agency license in Dubai begins at roughly AED 20,000 for a sole proprietor eligible for one visa.
Are You Ready to Start Your Tourism Business in Dubai?
How to start a tourism company in Dubai is a straightforward question with a clear solution. Despite the fact that the process of forming a corporation is not too complicated, it does need some previous understanding of the procedure. Furthermore, it is vital to remember that the procedure will be easy only if your license application is full and free of mistakes when it is submitted for review and consideration.
When forming a new business in the United Arab Emirates, it is a good idea to consult with a company formation specialist who can assist you in ensuring that this is the case.
FAQs
How do you start a tourist business in Dubai?
Now, in just five easy steps, learn how to start a tourism company in Dubai:
Step 1: Determine who your client is.
Step 2: Handle the legal aspects.
Step 3: Make a name for yourself by branding your company.
Step 4: Funding is the lifeblood of your firm.
Step 5: Promote and launch your company.
How do tourist businesses earn money?
Aside from flying, corporate travel firms make commissions by organizing car and hotel reservations for business clients. Corporate travel agencies generate the majority of their money from service charges, net/private rates, and airline commissions.
Summary
Review Date
Author Rating