Don't Make This Silly Mistake while applying for Your Food Truck License In Dubai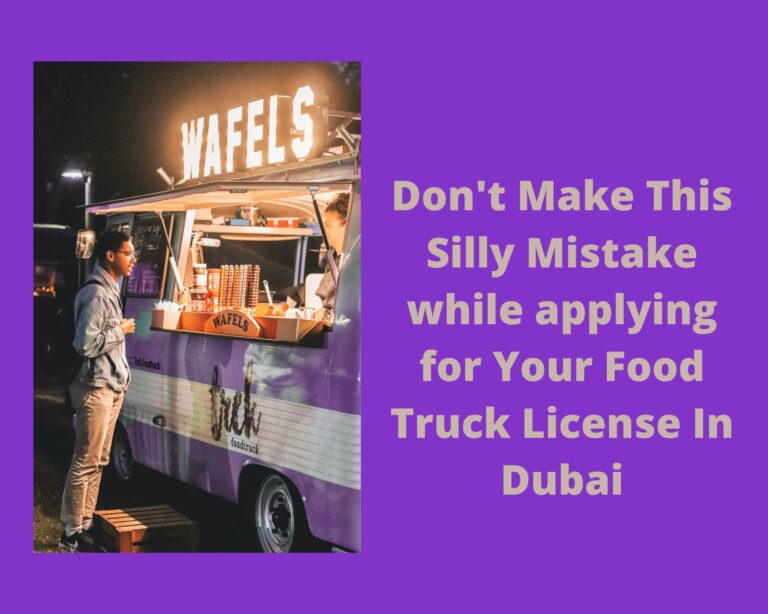 Published - 07/07/2022
The food truck has revolutionized Dubai's gastronomic scene in recent years. While Dubai has always had a vast selection of culinary delights, they were normally only available at one of its numerous luxury restaurants. Now the times are changing.
Food trucks now line many of Dubai's streets, and food truck parks have sprung up in some of the city's most renowned places. Aqua Pod, a floating food truck, feeds yachters and jet skiers throughout the Palm Lagoon and Jumeirah.
Dubai's food trucks is attracting an increasing number of businesses. Aside from the industry's growing prominence, there are many other explanations.
For starters, a food truck needs far less initial capital than a traditional restaurant. It's also less dangerous and more flexible since you're not bound by long-term obligations like leases.
Instead of waiting for customers to come to you, food trucks enable you to go to them.
While the idea of selling street food is straightforward, getting a food truck licence in Dubai is not always so. Before you may trade, your application must be authorized by four independent authorities.
Obtaining a food truck licence in Dubai
Dubai has rigorous criteria for who may operate a food truck in the city. As a result, acquiring a food truck license in Dubai might be a difficult procedure. To begin trading, you must first get permission from the Department of Economic Development (DED), Dubai Municipality, the Roads and Transport Authority (RTA), and the Dubai Electricity and Water Authority (DEWA).
The first stage is to submit a thorough business plan to the Dubai Economic Department and the Dubai Municipality. Your strategy must be accepted by both bodies before you can proceed to the next phase.
Because all food must be cooked in a graded kitchen, the next step is to select a graded kitchen to utilise or a caterer to outsource your meal prep to. After that, you may begin working on the design and layout of your vehicle.
For safety and hygienic reasons, both your kitchen and your truck must be licenced by the appropriate authorities. Only once you have received all necessary permits can you locate your location and begin trading.
Licensing regulations are stringent, although they are not too burdensome. In many circumstances, you may have your licence and all necessary permissions in as little as 30 days.
There is no reason why the licencing procedure shouldn't go easily as long as you follow the rules and recommendations established by the Dubai authorities. To accomplish this, it is a good idea to deal with a UAE company formation specialist who can handle the whole process for you, including contacting with the appropriate agencies and ensuring your application is comprehensive and precise.
The cost of a Dubai food truck licence
The cash needed to establish a food truck company will be determined by many aspects, including your selected location, the kind of cuisine you want to offer, and the layout and design of your vehicle.
If we take an average cost, you could anticipate to put down between AED 130,000 and AED 140,000.
This includes roughly AED 35,000 for a respectable food truck and monthly leasing charges ranging from AED 15,000 to AED 25,000 depending on where you live.
You'll also need to include in the cost of your permissions and Dubai food truck licence.
This is not a tiny investment, but it is significantly less than the expense of opening a regular restaurant.
Obtaining a food truck licence in Dubai
If you're ready to take the exciting journey ahead, the first step is to create a business plan. Create a description of your idea along with your business model & apply for a food truck licence from both the DED and the Dubai Municipality.
As previously said, this may be a very complicated procedure – especially for individuals new to the business sector in Dubai. That is why it is a good idea to deal with a business formation expert like Sharkup, who can handle the whole procedure for you. From obtaining your licence, applying for visas, to creating a company bank account are all part of this process.
Sharkup is a one-stop shop solution; all we need from you is a few details and documents, and we'll take care the rest.
FAQS
How much does it cost to start a food truck business in Dubai?
The average cost of establishing a standard size food truck in Dubai is roughly $36,758 (AED135,000).
Are food trucks permitted in the UAE?
Launching a food truck company in the UAE takes less cash than opening a complete restaurant. The ROI for food trucks is likewise much faster than for restaurants. To get a food truck licence and permit, you must first obtain permission from the Department of Economic Development (DED)
Summary
Review Date
Author Rating