Which Is The Cheapest Free Zone In The UAE?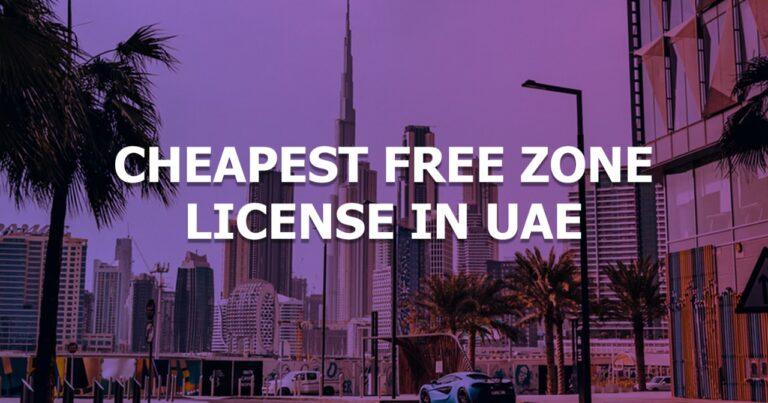 Published - 23/10/2021
Do you need the best option that allows complete ease of business? Well, then UAE is undoubtedly going to welcome you with a low-cost Freezone in UAE. Every economy in the world derives ranking based on its convenience of business from 1-190. The ranking is as per the aggregate of multiple indicators that explain the feasibility of doing business here.
As per the reports of the World Bank on Ease of Doing business, this country ranks at 16th position globally. Its highlights are the 0% tax policy and the strategic location. The cheapest free zone license in UAE accelerates the overall business environment out there.
What Does a Free Zone Mean?
Before knowing about the cheapest free zone license in UAE 2021 is imperative to learn about such locations. These places allow business owners to avail privileges in terms of custom rates and taxation. Every trading area here is within the limits of the specific emirate and has a distinct set of laws as per the jurisdiction that governs businesses. 100% business ownership is the main factor of such areas, and there are over 40 such Free Zones all over Dubai.
Why Set Up Businesses in the Free Zone?
Low-cost Freezone in UAE caters to multiple benefits like:
100% Foreign Ownership
Investors can claim 100% ownership rights in the Free Zone here and enjoy 100% ownership without any assistance from the UAE sponsors.
Personal and Corporate tax Exemption
The tax regime of the UAE is a critical reason big entrepreneurs and business owners seek trading here to avoid the burden of excess taxation.
Convenient set up
The setup and free zone license cost in Dubai is comparatively lower and easy to complete. However, the exact process ultimately depends on the nature of business, paperwork, and other documentation formalities.
Exemption of import and export duties
UAE jurisdiction given an exemption on the customs duties without any specific currency regulation.
Government support
Impeccable infrastructure and the supportive government make it easier for the new-age investors to perform business operations here.
List of Top Cheapest Free Zone License in UAE
Owing to the benefits that investors derive, these zones are gaining popularity in UAE. Here are the top 4 zones that provide similar economic benefits to the people.
Ajman Media City (AMC)
It is a famous destination for investors due to its simplified company formation and cost-effective services. AMC mainly offers licensing for entertainment-related activities in this country. There are also Flexi desks and workplaces, giving a perfect outset for small and mid-size businesses. The free zone license cost here is AED 8500.
Sharjah Media City free zone (SHAMS)
Another low-cost Freezone in UAE that is flourishing amazingly is the SHAMS. It fosters a vibrant atmosphere for emerging entrepreneurs here. This is now the excellent free zone for the new-age business enthusiasts here. Licensing in professional, trading, holding, and social media influencer categories are available here.
Raz Al Khaimah Free Zone (RAKEZ)
It's the cheapest free zone license in UAE 2021, where multiple size warehouses are readily available. This offers licensing for commercial, service, educational, media, and professional fields. Its cheap, quick, and ensures company formation within a week.
International Free Zone Authority
IFZA is the most competitive free zone located in the Silicon Oasis of Dubai. It's the cheapest free zone that provides licensing under service, trading, and consulting categories. This company can save a huge chunk on your yearly audit costs.
Find out What is the Cost to Register Business in Dubai?
Steps to Apply for Low Cost Freezone in UAE
Follow the five simple steps to apply for the licensing at free zone in UAE:
Step 1: Choose your business activities carefully
Step 2: Select a suitable company name
Step 3: Make an application for the trade licensing
Step 4: Apply for the Visa
Step 5: Open up a corporate bank account
Final Words
Thanks to the new and improved government policies, setting up and running a business in UAE is now convenient. The cheapest free zone license in UAE accelerates the search for such licensing and reaps long-term benefits to the business owners. Its hassle-free incorporation further promotes the UAE Free Zone Locations for brighter business perspectives.
FAQs
Is it allowed for a Foreigner to Own Business in Dubai?
Foreign nationals can start business operations in Dubai with few simple steps like selecting the type of legal entity, choosing the trade name, making an application for the business license, choosing the office space, and availing pre-approvals for the same.
What's the cost of establishing a Free Zone company in UAE?
Exact amount that you need to pay depends on the legal structure of the company and the selected free zone. Its cost also varies and ranges from AED 9,000 to AED 10,000 in most cases.
How Do Freezone and LLC differ?
LLC licensing supports professional, commercial, and industrial business licenses. Free Zone, on the other hand, supports professional licensing mainly and some components of commercial industries.
Summary
Review Date
Author Rating