E-Commerce Business License in Dubai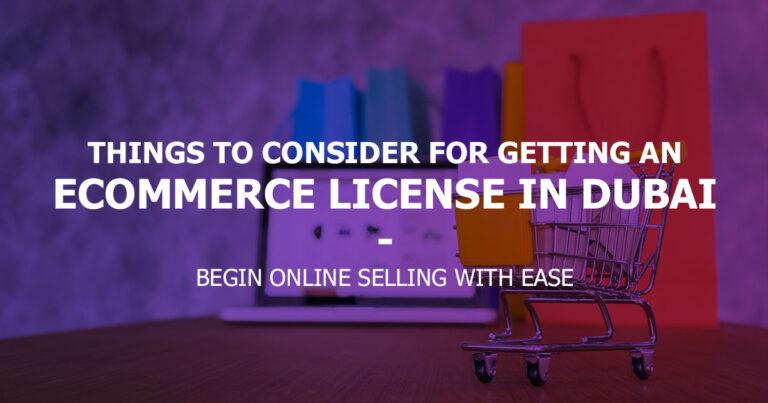 Published - 06/10/2021
Things to Consider for Getting an Ecommerce Business License in Dubai
Ecommerce refers to virtual trading wherein people can sell and buy online goods or services. Most people make use of the internet to endorse or supply their essential goods. Licensing in UAE is a basic criterion for enthusiasts and entrepreneurs who wish to get started.
Dubai hosts many prospects for eCommerce activities, and the market values at $10 billion or Dh36.7 billion in 2018. To enter the vast setup, you need to decide on every aspect, right from licensing approval to the website design and much more. Executing e-commerce trading in UAE is simple unless you follow the specific rules and regulations in this regard. Dubai authorities do not provide access to random individuals to sell online.
Licensing is issued by the Department of Economic Development (DED) in UAE for legal business operations. It is an undertaking that allows you to perform business operations through the internet.
How to Avail Ecommerce License in Dubai?
Technology is flourishing online, and there has been spectacular growth in various sectors throughout the world. Many businesses are experiencing a mega transformation with online trading and enjoying excellent services related to it. Demand for online stores in UAE is at an all-time high, and the entire sector is bound to hit the $20 billion mark by 2021. It is tremendous growth, and the whole industry can rise to $2.5 billion. It is necessary to understand documentation and other processes related to it to get your ecommerce license in Dubai.
How to Get your E-Commerce License in UAE?
It might be complex to get acquainted with the structure of online selling and buying in Dubai. Here is the list of important steps to get licensing in Dubai.
Select the proper legal structure
Opt for a prime business location
Make an application for Dubai ecommerce licensing
Get the MOA drafter or the local service agent agreement
Take office on rent
Complete registration with custom authorities and ports
Avail licensing through DED
Create a corporate bank account
What's the Cost for Ecommerce License in Dubai?
Licensing cost deviates depending on whether you wish to perform a professional activity or trading. Here is the list of costs that you need to fulfill:
Registration fees for DED
Office rent
Visa cost of investor
Sponsorship charges for the local partner of the UAE
Cost of the immigration card
Fees allotted for the company stamp
Emirates ID cost
Foreign name charges
Investors' medical insurance fee
Other government fees
Other visa fees
Distinct Types of E-commerce License in Dubai
Below are three primary types of licensing available for carrying out e-commerce trading or Setting up an Ecommerce Business in Dubai like online selling or buying.
E-Trader License
To sell online, you need an e-trader license. This license is available only under sole ownership. Its monitoring and operation are through the DED, and only GCC Nationals in Dubai can avail of it.
Portal License
This is yet another license that non-UAE nationals derive. It helps in linking sellers and buyers together. Tentative cost or this is AED 12,000 but varies on specific business requirements.
Virtual Company License
Dubai Economy launches this license and allows the investors as well as non-residents of UAE to commence commercial activities. It is applicable only for computer programming, designing, and other printing or advertising activities.
Wrapping Up
Dubai is witnessing a transition into a new business hub, and numerous businesses can be carried out here. Getting an eCommerce license in Dubai requires a thorough understanding of the business operations here as it helps people from all across the world with online selling activities.
Seek the different types of licensing options and go for an expert consultant to help you. Contact Shark up for any queries related to eCommerce licensing and steps to begin business operations in Dubai. Create your brand at the biggest marketplace of UAE online.
FAQs
How much does an ecommerce license cost in Dubai?
The apt cost of licensing varies as per several factors like the business size, visa application, requirement of office space, and the choice for packaging whether you need it in mainland or free zone.
Is it possible to sell homemade food in Dubai?
After availing of the proper licensing and complete legal paperwork and the documentation process, you can sell homemade food in various parts of the UAE.
How to Get a Food Trading License?
We are here to provide all kinds of information about applying for a Dubai Trade license.
Summary
Review Date
Author Rating