Home Business License in Dubai | Step by Step Guide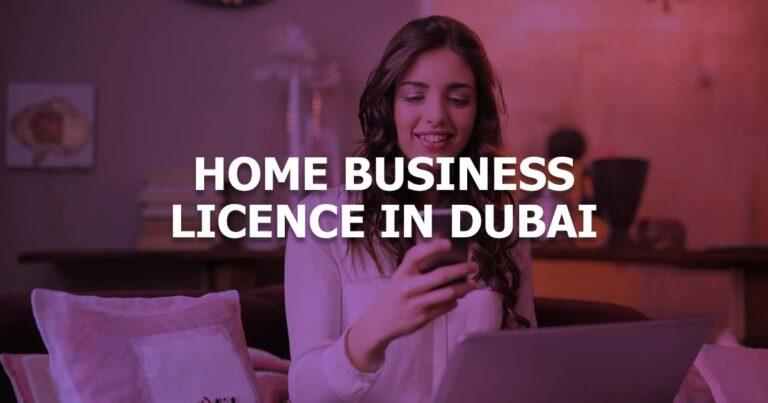 Published - 07/02/2022
Worldwide, home-based enterprises are gaining prominence. Whether they join the gig economy, create a side hustle, or launch a full-fledged firm, an increasing number of entrepreneurs are eschewing office boundaries.
By the end of 2022, half of the UK workforce is predicted to work remotely, while the most recent US census indicated that over 8 million individuals operate home enterprises. The United Arab Emirates is starting to follow suit.
Along with independence and flexibility, home-based firms in Dubai benefit from the emirate's low tax environment and simple incorporation procedure.
Establishing a home-based business in Dubai is similar to setting up a regular firm and should always be done with the assistance of a company formation specialist. Before you begin, here is all you need to know. Read on to understand how you can get a home business license in Dubai.
How to start a home business in Dubai
The simplicity with which a home-based company may be established in Dubai has been a significant element in the growth in the number of people opting for the same. Our assistance will be invaluable to you throughout the procedure. Our qualified specialists will power your onward journey with unmatched advice and innovative thoughts. And assist you in obtaining the most advantages.
The following are the stages required in establishing a home business in Dubai:
Determine and finalize the home business activities that you want to conduct. Along with your preferences and preferences, it is necessary to consider your development chances.
Determine the jurisdiction in which you want to create your home-based company in the UAE. You may register a home business on either the Dubai Mainland or the Dubai Free Zone. Confirm it only after consulting with a member of our expert staff.
Decide on a trading name for the business. The given name should be free of political or religious connotations. Additionally, the title should adhere to the authority's naming criteria.
Apply for a license issue. The authority responsible for approving your application and issuing the license will vary by jurisdiction. The method for establishing a home company will also vary according to the jurisdiction you pick.
You may not need it if you want to operate a home-based company in one of the UAE's Free Zones.
How to Get an Home Business license in Dubai
Before applying for a home business license in Dubai, you must make a few essential considerations. The first is concerned with your professional activity. Not only must your license activities be identical to those that you want to carry out, but the activities that you choose will also define the optimal setup type for your firm as well as the license that you will need to conduct your business.
When you have so many alternatives, you are sure to locate an activity or activities that are relevant to your business with the assistance of a company formation specialist. When submitting your application, it is critical that you explicitly identify every one of the activities that you want to take out.
Following that, you must decide on a firm name. When doing so, you'll need to follow the name guidelines established by the United Arab Emirates.
You are not permitted to use any derogatory or blasphemous language in your business name, nor may you make any allusions to Allah or Islam. Your real name must be used in the firm's name rather than simply your surname or initials if you intend to incorporate your name in the company's name. It is also necessary to confirm that the name you have selected is accessible for registration.
Only now will you be able to submit your license application. If you haven't already, it's a good idea to speak with a business formation specialist before proceeding with this next stage since any mistakes might result in expensive delays down the road.
Depending on whether you want to establish a free zone or a mainland company, the procedure will be somewhat different. Once again, a business formation professional can assist you in making this option.
When deciding if the mainland is a preferable location for your company, you must submit your application to the Department of Economic Development (DED) in Abu Dhabi or the equivalent agency in another emirate. The majority of this procedure is completed online.
Alternatively, if you have opted for a free zone configuration, you may submit your application directly to the free zone of your choice. Due to the fact that free zones are self-regulated, you will not be required to get extra permissions in order to trade, making the procedure both quicker and more efficient.
Depending on the nature of your company, you may be able to start out as a freelancer and subsequently expand into a full-fledged enterprise. In both circumstances, the application procedure is the same as in the first.
Activities Permitted for Home Businesses in Dubai
The following business activities are permissible in a home-based business in Dubai:
Private tuition
Online instruction
Vlogging
E-commerce
Web development
IT Consultancy
Freelance Jobs
Fashion Boutique
An influencer on Social Media
DED Trader License Criteria
The proprietor of a business must be at least 21 years old.
The company, initiative, or start-up must be based in Dubai and exclusively operate there.
To apply for a Trader License, the owner must have a valid Emirates ID.
FAQs
Q: Do small enterprises in the UAE need a license?
A: All sorts of businesses, from small and medium firms to international corporations, need a license to operate lawfully. However, there are a number of reasons that may conspire to raise the cost of a business license in Dubai.
Q: What is the cost of a home business license in Dubai?
A: To learn more about the procedure, go online or contact the municipal or county office that handles company licensing. Fill out a form with information about your company. Pay a charge, which ranges from $50 to several hundred dollars.
Summary
Review Date
Author Rating